Halloween at Inphonite
by Carly Stewart
Cobwebs hang from shelves and stick to desk drawers as vines dangle from the ceilings and spooky wallpaper covers the walls. The Indiana Jones theme song echoes off the walls, blending into the scary music leaking out of another's office as fog seeps under the door into the Hallway.
This must mean one thing: It's Halloween at Inphonite!
The Inphonite team is comprised of very creative and talented individuals as I have always known, but witnessed first-hand this week in the office.
This year Inphonite graciously offered reimbursements for Halloween decorations to those who wanted to participate in the office decorating contest. Over the course of a week offices transformed into haunted houses, snake nests, spider webs, lairs, science labs, accident scenes and more. Most everyone prepared, coming in over weekends, and late nights to decorate just in time for an office-wide ballot casting for the winner.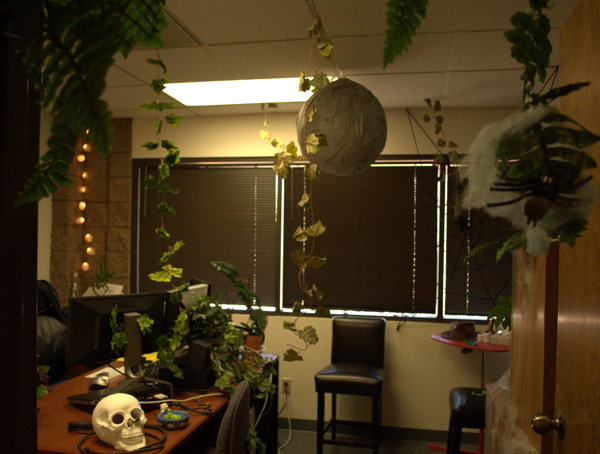 There was a three way tie for second place between Scott, Christine and myself. After the remaining votes were counted we found the winner to be Michael with his use of fog machines, programmable voice affects, dark wall paper, ceiling fabric, black lights and more. He had turned his office into a true haunted house, complete with the scary animatronic monster that shook your chair. Everyone's offices looked wonderful and Inphonite was excited to include a guest from Canada as an impartial judge and voter.
The success of a business depends upon the effort, team work, and dedication of each individual, so it is inspiring to know that the employees put forth their best effort in all that they do here at Inphonite whether with customers or each other.
Happy Halloween!